Copyright (c) 2004 A and A Logistics. All rights reserved.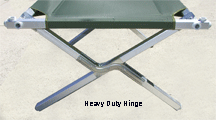 GI Spec Folding cot
Size 77"L x 25"w x 18" H
Heavy Duty Hinges
Tested to over 1000 lbs.
Cot: Part # AA04821
Netting:
Part #AA04821N

Cot: Tempered Tublar Hardened Aluminum Frame, Prefitted Double Stitched Nylon Cover, all Mil-Spec plastic feet,
grommets, end caps and stainless steel hardware. Comes with a Storage/Carry Bag, weights 16 lbs.
Shipping weight is 18 lbs. Standard packaging is 4 to a carton.
Netting Attachment:
Military Mosquito Net & Pole Set, designed to fit over G.I. cots. Mildew resistant polyethelyne "no see-um"
mesh with satin skirt and reinforced corners with ties. Comes with 4 wooden poles in their own Cord-lock
carry bag. Both fit in a larger matching storage bag.
Emergency Beds for temporary shelters and disaster preparedness.
More comfortable than cots for half the price.
Foam Sleeping Bed and Pillow (The Man on the bed is 6'5" tall)